Aging Populations – Financial Impact on Society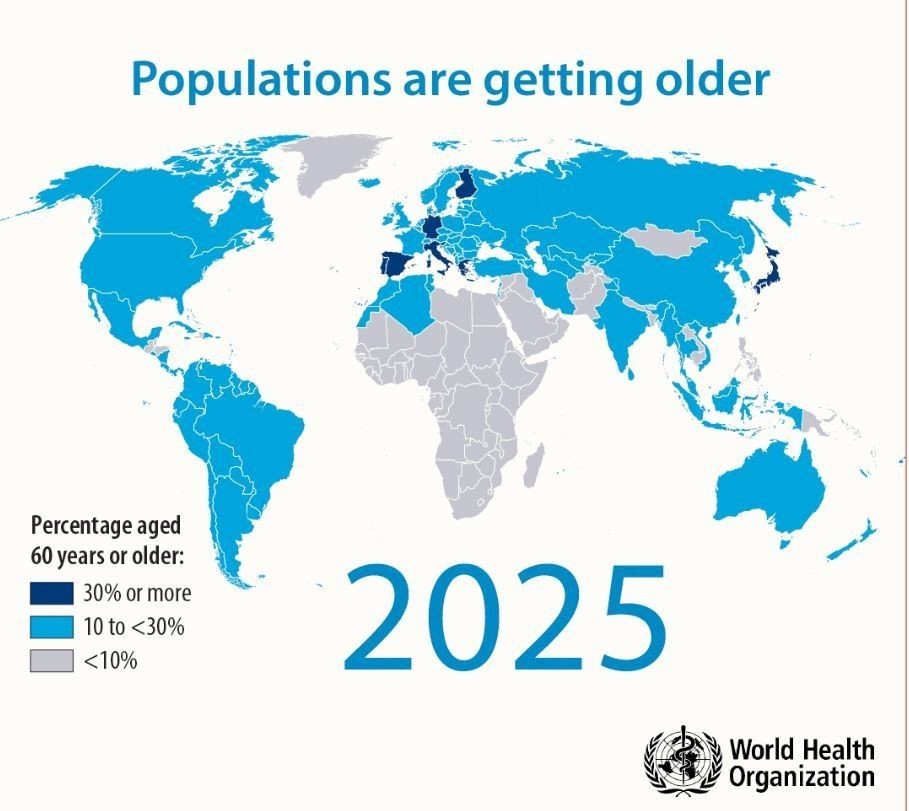 Earth's Aging Population
Societies Upcoming Problem
BOOMERS are people born 1946 to 1964 and there are near 72 million boomers in the U.S. and 1.1 billion Boomers in the world. They are about to create societies' next biggest care problem by their retiring or being forced to retire without adequate savings for a financial existence.
A 2019 research study from Northwestern Mutual found that 22% of adults in the U.S. have less than $5,000 saved for retirement and 46% expect to work past the age of 65.  In 2020, the average monthly Social Security benefit was only $1,509. U.S.. Canada the numbers are also near $1000 per month and up to $1600 CAD per month if you qualify for all the maximum/minimum benefits.
With an average monthly retirement requirement of 70% of the earning year's monthly income, you can see how the above numbers are a big problem.
Lifestyle Options is a very large international corporation providing assisted living residences in most any city. The following was received from Riverbend complex Edmonton AB and will vary by the complex.
"All of my units have in house laundry, full-size washing machines and dryers. All my units have a fridge, stove, dishwasher and microwave. We also offer meal plan options, 3 meals per day is $550 per person and 2 meals is $400 per person. We also have heated underground parking with a car wash area. We also offer housekeeping at $30 per hour- you design your plan for this, ie: bathrooms every 2 weeks and floor washing. We also offer private care at $50 per hour for LPN and $35 per hour for HCA- again you can design your plan to meet your needs. I have LPN an HCA in the building 24 hours a day.
I have approx 16 different types of units in my building, therefore it is best you check our website www.lifestyleoptions.ca drop-down menu Riverbend and it will show you the different layouts. If you can narrow it down to the suites you like I will gladly provide the cost for those suites."
The rent includes heat and water, you are responsible to pay for electricity, phone and cable. Parking is $75 per month.
I have maintenance on-site Monday to Friday- available for urgent matters evenings and weekends. 
There is an extensive list of extra optional services with fees depending on your needs or wants.
Let's simplify the cost of existing
by using a 1 bedroom apartment minimum example – 
Rent – $1200

Water sewer – $150

Electric – $150

Food – $500

Cloths – $100

Phone – $50

Health care insurance – $50
From the above, we can see a minimum required monthly survival income is $2200 CAD. If your only source is government-related and you have no savings, RRSP's, or private monthly pension you will be about $1,000 short of financial existence.  This does not include assisted living needs.
Home care costs for seniors in Ontario Canada
Here is an overview of senior home care costs for those who need some at-home help to remain in their own home.
Home support, basic personal care costs $30 per hour, Therapy Nursing costs $60 per hour
Live-in Home Care – Canada
This costs at least the minimum wage $14.60 CAD (July 1 2020) less a charge for room & board and likely requires sponsoring a foreign national. This is a cost of $14.60 times an 8 hour day x 25 days a month = 3,000 per month less room and board if living in. Overtime rates apply when requested.
What are your parent's retirement plans?
If you have not asked your parents where they plan to live when they retire you really should? 
If they can not afford to live and receive the care they are in need of you will basically have three choices. 
Provide support money so they can live not with you or

They move in with you or

You tell them to go play in the traffic.
This is the scary part!
The first two options = a reduced income for you to provide for yourself and to save for your future retirement. If they move in with you to reduce costs it is extremely likely you will lose work hours thus again resulting in a reduced potential for you to save for your own future retirement. That means a great many of you will be 100% reliant on gov't assistance and or family when you retire.
Asians have us beat on this one!
If an Asian asks his parents what their retirement plans are, the parent would answer:  "Why son or daughter, we're going to move in with you!" 
After all, they did provide for the first 18+ years of their son's and daughter's life and their children were never asked to leave the family home.
You can find a list of all our blogs on our news-blog page.
Subcribe to our blog to receive future email notification of blog releases.
Sources:
https://edition.cnn.com/2013/11/06/us/baby-boomer-generation-fast-facts/index.html
https://www.investopedia.com/articles/personal-finance/111815/what-retirement-will-look-without-savings.asp
https://www.comfortlife.ca/retirement-communities/senior-living-costs-ontario/#lowest
Home